Tel: +86 371-67991755
Fax: +86 371-67993277
Sales direct: +86 15838331071
E-mail:sales@battemachinery.com
24h services
batte continuous backflush screen changer
Featuring a unique design, the new continuous backflush screen changer allows for increased filtration screen life, by at least 25 times over typical continuous screen changer designs. Increased screen life means less frequent screen changes due to clogging from contaminants in the plastic melt. This translates into much less downtime, meaning higher reliability and higher productivity for processors. Another key benefit of the continuous backflush screen changeris that it reduces the back pressure on the extruder to a much lower pressure, thereby allowing for increased output - as much as a 50% increase on some materials and processes.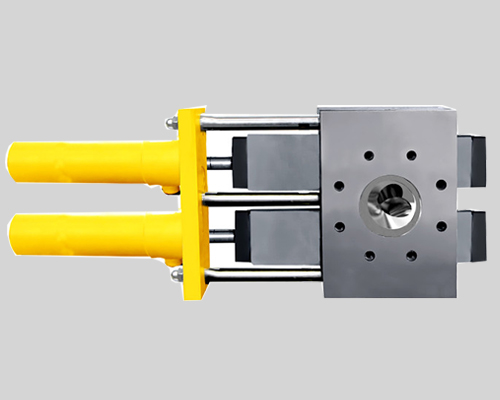 This new backflush unit takes this concept to a new level. By automatically purging contaminants from clogged screens, it dramatically extends screen life. This product will operate much longer without the need for maintenance than any conventional screen changer.
Typical applications for the new continuous backflush screen changer include recycling, sheet, blown film and cast film, compounding, underwater pelletizing and strand pelletizing, extrusion coating, pipe and profile, wire and cable, and others. Five standard sizes of backflush screen changers are offered by PSI, with outputs ranging from 1,000 to 10,000 lbs/hr.
Technical data:
Type

Output

Kg/h

Size (mm)

Screen size

Heating tube

L1

L2

L3

L4

Ф(mm)

cm2

Quantity

V

KW