Tel: +86 371-67991755
Fax: +86 371-67993277
Sales direct: +86 15838331071
E-mail:sales@battemachinery.com
24h services
How to solve the PVC extrusion mold paste phenomenon
PVC extrusion mold paste may be the first mold design unreasonable. There may be dead ends runners, PVC plastic long-term accumulation does not flow in this dead end, it is easy to paste.
1. Mold temperature is too high is the reason!
2. Process improper operation, the general case of this situation. I personally think that barrel temperature can be properly increased. However, the transition period, the oil temperature can be properly reduced, and the mold temperature is also reduced.
3. Irrational formula of PVC extrusion mold may lubricant system is wrong.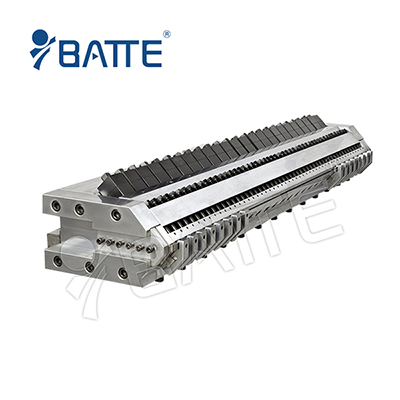 Technical data
| | |
| --- | --- |
| Item | Specification |
| Die steel | P20/5CrNiMo |
| Material | PVC |
| Width of the die | 500mm-5000mm |
| Thickness of the product | 1-20mm adjustable |
| Choked flow rope | 90° |
| Way of flow passage | clothes rack type |
| voltage | 220V/50hz |
| Heating type | heating inside |
| Heater element | stainless steel heating rod |
| Mode of connection | closed cycled connection |
| Fastening piece | 12.9 high strength |
| Precision of polishing | Polishing precision of the stream surface of the die lip 0.03-0.04(μm)other parts is 0.04-0.05(μm) |
| Galvanization | the stream surface of the die head are treated by chrome treatment. Thickness 0.03-0.04(μm),hardness: 60-65Rockwellc,the chrome treatment thickness of the ektexine is 0.01-0.02mm. |
| Installation | according costumer's request |
| Way of charging | central ring charging way |