Tel: +86 371-67991755
Fax: +86 371-67993277
Sales direct: +86 15838331071
E-mail:sales@battemachinery.com
24h services
Single plate double station fast screen changer for recycling processes
Single plate double station fast screen changer
for recycling processes
also be called
slide plate screen changers
.The
hydraulic slide plate screen changer
for recycling processes run automatically and without system downtime. It consists of main body, sliding plate, heaters unit and hydraulic unit with accumulator. It is driven by hydraulic syste.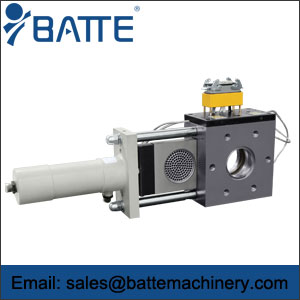 Single Plate Double Station Fast Screen Changer Features:
1. Single plate double station fast screen changer with fast converter is a cost-effective, high-performance converter
screen changers for extruder
.
2. Slide plate screen changers fast switching filter In 0.2 seconds
3.
Hydraulic screen changers
change filter fastly, less variation in the material flow and material does not leak, tolerance of high pressure, large filtering area, simple operation, screen change fast, high antiwear, high compressive strength, high precision filter design, improve the quality of effective area and filtering.
4.Hydraulic slide plate screen changer work well even under the high temperature of 300℃and high pressure of 25-50Mpa.
5.In the plastic sheet, sheet, film, pipe, granulation and other extrusion production line essential accessory equipment.
Single Plate Double Station Fast Screen Changer Technical data and applications:
Type

Output

Kg/h

Size (mm)

Screen size

Heating tube

L1

L2

L3

L4

Ф(mm)

cm2

V

KW
Type

Output

Kg/h

Size (mm)

Screen size

Heating tube

L1

L2

L3

L4

Ф(mm)

cm2

V

KW
1. Film production line (CPE BOPP PE HDPE PET and other materials)
2. Packaged with production line (PET PP material)