Tel: +86 371-67991755
Fax: +86 371-67993277
Sales direct: +86 15838331071
E-mail:sales@battemachinery.com
24h services
What is fast plate screen changer made of
What is fast plate screen changer made of? This is What to introduce today. Fast
plate screen changer is a screen changer that used in high transparency, high viscosity, easy cracking and high molecular weight plastics industry. The screen
changers can effectively improve product quality. Now do you understand What is
fast plate screen changer made of?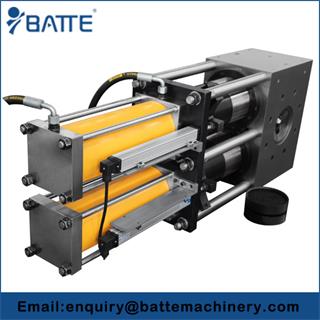 Batte fast plate screen changer is made of one structure, mainly consist by the changer body, skateboards, hot cylinder, network block heater and other components. Screen changer sealing components using special alloy steel, quenched and tempered, nitriding, grinding and other special processing procedures, the production of pressure 55mpa pressure deformation can not guarantee no leakage of material, designed to automatically compensate for seal structure, with hydraulic accumulator for fast, non-stop production line can be achieved for network, no material leakage, high pressure, high temperature, for network, easy to operate, for network less waste, mainly used in pipes, blow molding, casting, granulation, plate, sheet, and other fields.
Batte machinery Zhengzhou Co., Ltd. is a professional Screen Changers Manufacturer In China. Our products are fast type, automatic type, plate hydraulic screen changer, column hydraulic screen changer, continuous mesh belt screen changer and high-tech melt pump companies. We have strong technical force, with several domestic universities to expand research and development and long-term cooperation, it is a professional production extruder screen changer and melt pump earlier enterprises.