Tel: +86 371-67991755
Fax: +86 371-67993277
Sales direct: +86 15838331071
E-mail:sales@battemachinery.com
24h services
Hydraulic Screen Changers For Extruder Machine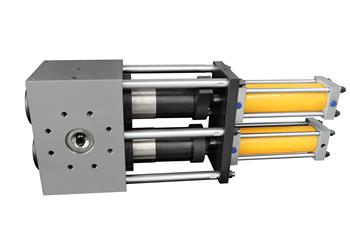 Hydraulic Screen Changers For Extruder Features:

1.Consists of main body, sliding plate, heaters unit and hydraulic unit with accumulator
2.The hydraulic continuous screen changer can meet any polymer materials, high temperature, high pressure, high extrusion production.
3.The high wear-resisting, the high pressure, the high precision seal structure design, improves the effective filtration area and the filtering effect.
4.Can be used with different standards extruder, the product is not interrupted, do not leak.
Hydraulic Screen Changers For Extruder
Application:
Batte extrusion screen changers
can be used for pelletizing, pipe, sheet, plates, casting film and sheet, plate, pipe, coating, film, wire, cable, profiles, granulation, foaming etc. for all the heat plasticity melt.
Technical specifications:
Type

Screen D&A

Overall dimension (mm)

Heating power
(KW)
Output
(Kg/h)

Ф(mm)

cm2

L

W

H

L1

ZB-SSP-80

Ф80

50*2

200

170

340

820

2.4/3.2

110-300

ZB-SSP-100

Ф100

78*2

220

185

280

930

3.5/4.7

180-500

ZB-SSP-120

Ф120

113*2

260

205

320

1010

5.0/7.2

350-800

ZB-SSP-150

Ф150

176*2

300

235

360

1140

8.2/11.1

450-1200

ZB-SSP-180

Ф180

254*2

320

245

360

1200

9.412.7

500-1500

ZB-SSP-200

Ф200

314*2

360

280

420

1300

10.2/13.8

800-2500

ZB-SSP-250

Ф250

490*2

450

300

430

1520

13/17.5

1400-3700

Note: The capacity depends on the material liquid, filter fineness and material purity. The specifications are subject

Relative Articles:
◆Recycled Plastic Screen Changer
◆Manual Screen Changer For Extrusion
◆Double Plate Double Screen Changer
◆Double Pillar Large Capacity Type Screen Changer