Tel: +86 371-67991755
Fax: +86 371-67993277
Sales direct: +86 15838331071
E-mail:sales@battemachinery.com
24h services
How to choose a most suitable type of screen changer for your extrusion line
How to choose a most suitable type of screen changer for your extrusion line ?
After the equipment supplier making a size recommendation and then you should perform your own analysis to confirm appropriate sizing.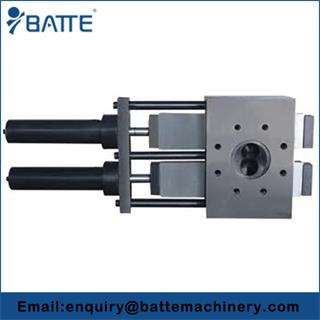 1.With highly precise design,abrasive resistant,high pressure performance.
2.It works well even under the high temperature of 400℃and high pressure of 40Mpa-50Mpa.
3.Nonstop screen changing,leakfree design.Automatic exhaust design.
1.Simple operation and dimple screen changing,contious working.
2.Easy maintenance,leak-free processing,endures precise processing,hign product
quatity and reduced waste materisls.
To choose a most suitable type of screen changer
, you will have the advantage of independent analyses and, best of all, there is no additional cost.
Learn the difference between price and cost. Be sure to take into consideration all of the variables and look at all the factors to determine the real cost of ownership for the screen changer.
Relative Articles:
◆How is backflush screen changer working
◆Hydraulic Screen Changers For Extruder Machine
◆Screen Changers Manufacturer In China
◆Plastic extrusion screen pack changer