Tel: +86 371-67991755
Fax: +86 371-67993277
Sales direct: +86 15838331071
E-mail:sales@battemachinery.com
24h services
How is backflush screen changer working
Backflush screen changer working
with a PLC control system through the screen changer for recycling process.
Powerful back flushing system,greatly improve the product quality,reduce screen pack consumption and cost,improve the production cost efficiency.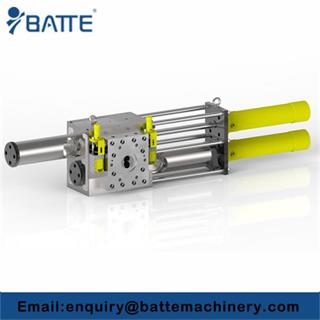 Self cleaning flow screen changer
actuates the filtration screen moving out of the production position and backflushed by the redirected melt stream, allowing pressure to push contaminants off the dirty screen pack. The contaminated backflush mass leaves the machine by means of heated drain channel which is installed at the screen changer housing. There the small quantity may be removed or collected. And the cleaned screen is moved back to production position until the backflush cycle takes place again.

Relative Articles:
◆Automatic Belt Melt Filters
◆continuous and discontinuous screen changer
◆Two channel polymer screen exchange filter
◆Four-cavity screen changer for recycling Process