Tel: +86 371-67991755
Fax: +86 371-67993277
Sales direct: +86 15838331071
E-mail:sales@battemachinery.com
24h services
here we will compare continuous and discontinuous screen changer for you
Do you know how to selecte screen changers for your extrusion line, here we will compare continuous and discontinuous screen changer for you.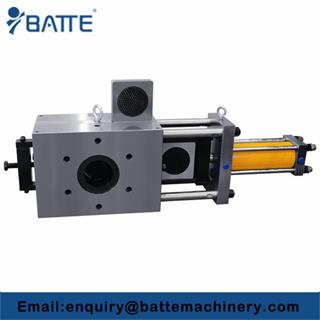 Continuous screen changer like slide piston hydraulic screen changer
or large capacity plate screen changer
operation means that during the screen change the screen bearing piston recycling process, which remains in the housing, has enough capacity to take the complete melt flow. In order to change the filtration screen, the screen cavity in the bolt can be moved out of the housing. The other bolts screen cavity remains in production position to maintain the melt flow. Venting grooves within the bolt make sure that no air is introduced into the process.
Discontinuous screen change like manual control screen changers
,
the extruder has to be stopped momentarily. The piston is moved out of the housing hydraulically (the screen bearing piston remaining in the housing, blocks the flow channel). Once the new filter medium is inserted, the screen bearing piston is moved back into the operating position.
So
n You can choose the most suitable screen cahngers
for your extrusion line.

Relative Articles:
◆Recycled Plastic Screen Changer
◆Double Plate Screen Changer
◆Fully Automatic Screen Changer
◆Hydraulic Screen Changers Extruder