Tel: +86 371-67991755
Fax: +86 371-67993277
Sales direct: +86 15838331071
E-mail:sales@battemachinery.com
24h services
Self Cleaning Flow Screenchanger
Self cleaning flow Screen changer allows each screen to be re used to result in significant reduction in screen and labor cost. and screen changers for polymer melt filtration replacement is done without interruption of the screen changer for recycling processes.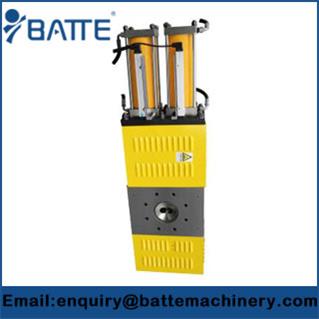 Self Cleaning Flow Screenchanger Characteristics:

1.The self cleaning feature makes the operation the most economical.
2.There are no moving parts to be driven by hydraulic or pneumatic power.
3.The filter replacement is required when they have been completely obstructed.
5.the filter cartridges are cleaned without being taken out of the screen changer.
Batte self cleaning flow screen changer deal with thermoplastic materials such as: PE, PP, ABS, PS, etc. The
screen changers for extruder
was developed to meet the requirements of extrusion installations for film, sheet, mono-filaments, bioriented film, pipe, tubing, fibers, compounding.

Relative Articles:
◆Continuous Rotary Screen Changers
◆Automatic Screen Changer Factory
◆Double Piston Screen Changer
◆Double Pillar Large Capacity Type Screen Changer