Tel: +86 371-67991755
Fax: +86 371-67993277
Sales direct: +86 15838331071
E-mail:sales@battemachinery.com
24h services
Hydraulic pump station
Hydraulic pump station is operated combination by means manifold, valve combination, fuel tank, electronically control system and accumulator. Hydraulic pump station is replacement and cleaning power system for changer filter. Hydraulic motor driven pump to rotate. The gear pump suction oil from the tank to turn the mechanical energy into hydraulic pressure energy. Hydraulic oil through the manifold (or valve combination) to achieve a direction, pressure and flow rate after adjustment by external piping and mechanical to hydraulic cylinder or motor oil. So it can control the direction of transformation was the motivation, strength and size of the pace and promote the hydraulic mechanical work.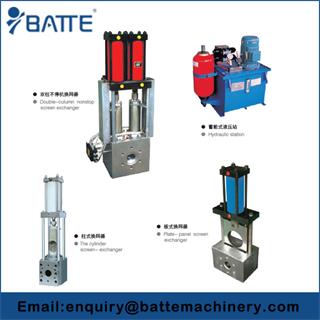 Hydraulic pump station types:
Hydraulic pump station is divided into with accumulator tank and of ordinary two kinds . Hydraulic station with accumulator tank is typically used in slide plate screen changers and single column screen changer. The screen changer will instantly cutting when changing the screen. It is necessary to save energy to achieve objective changing moment. Ordinary type hydraulic pump station is commonly used in double plate and double column double working position screen changer. there is always a screen working in the process of scrren changeing. not cutting, This time must be requested changer very smooth to minimize the impact on the downstream products.

Relative Articles:
◆What is fast plate screen changer made of
◆Screen changer for double-screw foaming sheet extruder
◆Mini Extrusion Screen Changer
◆Plate Or Column Quick Screen ​​Changer